Product Categories
Contact Information
Wuxi Kinglux Glass Lens Co.Ltd
ADD:No.286,Changjiang North Rd,New Dist,Wuxi,JS prov,China
Tel: 86-510-66759801
Fax: 86-510-84602998
Mobile phone: 86-18168862789
E-mail: ledglasslens@163.com
Contact person: Huimin Zhang
Smart Appliances For Your Smart Home
Apr 19, 2018
With today's technology, every homeowner wants the best appliances, and gadgets. But, in a world where being on-the-go meets being environmentally-friendly, we often have to think about new ways to update our house. Whether it's finding ways to save water, going green with our lighting, wireless communication, or other issues, today's smart homes have a lot more to offer than you think.

(Image: Maggie Baker)
What Are Smart Homes and Devices?
For those not in the know, you may wonder what smart homes, or devices, are. As Home Advisor tells us, smart homes are regular houses in which every piece of electrical equipment is hooked up to a computer. The appliances know when to turn on or off, and can monitor their own energy usage. Some of them are able to diagnose their own issues when they malfunction. In a sense, they give you more control by taking control of themselves.
Wireless Controllers
While some appliances have their own controls, you can also use wireless communication to "speak" to them. As pcmag.com shows us, devices called hubs allow you to create voice commands for appliance in the house. With the use of bluetooth, you can use a voice assistant (such as Alexa) to control everything from the thermostat to your security system, and everything in between.
Thermostats
For example, Lifewire shows us many items that can be used wirelessly such as thermostats. The system is designed to optimize the heating, and cooling, of your home. However, some of them actually "learn" about your preferences. After the first few adjustments, it will adjust itself automatically based on what your own lifestyle. If you need to make any further adjustments, you can do so from your smartphone anywhere you are.
Programmable Lighting
But, that's not all. You can also control your lighting. As many environmentalists know, LED (light emitting diode) lights have become quite popular in recent years. In fact, some lights are also programmable. You can not only program the intensity of the lighting. You can also change the color.
LED Lights
You may be asking about how LEDs are different from your "regular" bulbs. According to energystar.gov, LEDs are more versatile, efficient, and last longer than their incandescent counterparts.
In addition, C-Net explains that LEDs may be expensive. But, they are worth the price, and they are cheaper to operate in the long run. Because of their popularity, they are becoming somewhat cheaper, and more available in your local home store.
LED Advantages
But what are some of the advantages of LED lights? According to Green Living Ideas, there are several. For starters, they have a long life span compared to their counterparts. If used well, they can last up to 100,000 hours.
They are also energy efficient. In fact, some are rated at 80 - 90 percent in efficiency. In other words, that percentage of energy is converted to light while others lose energy to heat.
Because LEDs don't use toxic chemicals (such as mercury), they are also environmentally-friendly, recyclable, and they reduce the carbon footprint. The cost of materials used, and the waste produced, is also greatly reduced, which makes them perfect for the environmentally-conscious consumer.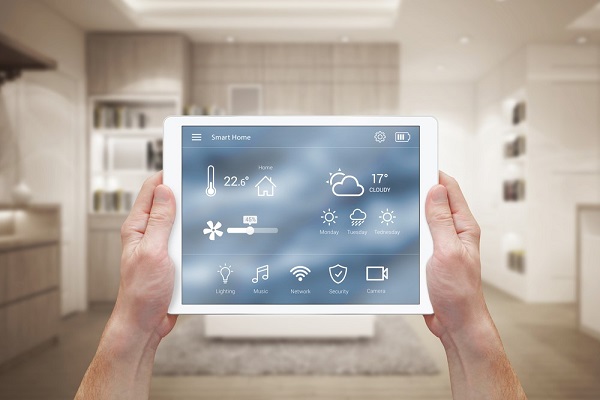 (Image: Maggie Baker)
Having a smart home has several advantages. Being able to use a wireless communication system allows you to communicate with all of your devices with just a touch, or voice command, from your smartphone. In addition, the use of LED lighting is not only becoming more cost effective than ever. It will save energy, and help the environment, as well. This combination will definitely serve you, and our planet, for years to come.
Keywords:connected lightingSmart Homesmart lightingLED lightingwireless communication
Related Products