Product Categories
Contact Information
Wuxi Kinglux Glass Lens Co.Ltd
ADD:No.286,Changjiang North Rd,New Dist,Wuxi,JS prov,China
Tel: 86-510-66759801
Fax: 86-510-84602998
Mobile phone: 86-18168862789
E-mail: ledglasslens@163.com
Contact person: Huimin Zhang
Progress Updates From 10 Companies In The Global Micro LED Manufacturing Force
May 07, 2018
As time is moving forward to the second quarter of 2018, more and more rumblings and updates about Micro/Mini LED emerged and have been circulating in the industry. In February, LEDinside collected and revealed information of Micro LED development from nearly 50 companies around the globe. Here, we would like to share some progress updates released after that from 10 companies.
Related reading: Must Read: Worldwide Micro LED R&D Progress
Samsung (KR)
Let's start with Samsung. We believe that Samsung, after releasing its Micro LED modular TV 'The Wall' at CES 2018, must have received a lot of interest to collaborate from firms in different fields and questions asking when the TV will be officially out in the market. In April, it was reported to launch new-generation Micro LED TVs by the end of this year. The head designer of the company said that the size of the new TVs will be more than 88-inch without disclosing any other details.
The 146-inch 'The Wall' Samsung displayed in January was composed of numerous 9.37-inch Micro LED display modules. It can thus be customized into various sizes for different locations such as cinemas or living rooms. In terms of developing Micro LED chips for those TVs, it is highly speculated that Taiwanese tech companies are involved. The Korean display giant has also been rumored many times to be in talks with PlayNitride about business acquisition or collaboration on tech skills.
Lumens (KR)
Same as Samsung, Korea-based Lumens showcased Micro LED displays at CES 2018. It exhibited its large-sized Micro LED displays in two sizes. The 139" digital signage display featured ultra-high definition (UHD) and a pixel pitch of 0.8mm, while the 130" one had a resolution of 1920x1080P (FHD) and its pixel pitch was 1.5mm. The Micro LEDs used in both signage displays were 300μm long and 100μm wide. Lumens also stated it will be manufacturing small-sized (0.57") automotive Micro LED head-up displays consisting of LED chips sized only 8μm.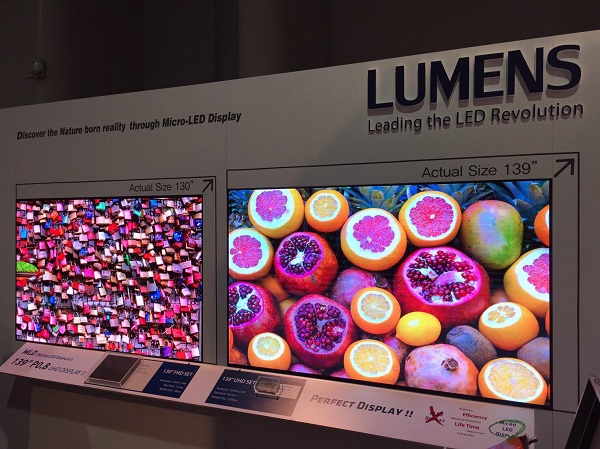 (Image: LEDinside)
Epistar (TW)
On the way to realize the mass production of Micro LED, Epistar decided to offer Mini LEDs to smartphone and gaming monitor manufacturers to produce Mini LED-based consumer electronics first in the third quarter. If the rumors are true, phone makers Huawei and Xiaomi will soon begin to work with Taiwanese companies to develop Mini LED backlights for their products. Before June, specifications of those backlight modules will be settled, and they will be put into mass production in 2H18. Even if Mini LED is considered a transitional technology, it seems Epistar plans to use it to rival OLED, earning some time and space in the market for Micro LED.
Innolux (TW)
Taiwan-based display company Innolux at CES 2018 unveiled a 10.1-inch AM Mini LED automotive display. The AM Mini LED backlight of the panel is integrated with a flexible substrate. The flexibility of the automotive LCD display allows various types of form factor. The company anticipates commercializing its invention by the end of 2018. It is also talking with some of the major automakers regarding the introduction of the display. The mass production of the product is scheduled in 2020, a source leaked. Innolux will share more business details in June.
ALLOS Semiconductors (DE)
ALLOS Semiconductors emphasizes the high yield requirements and the need for super-uniform wafers to make micro LEDs cost-competitive. The company said it can achieve this with its flat and crack-free 200 mm GaN-on-Si wafers. To realize these advantages along the value chain from wafer to display, ALLOS works with several parties but declined to comment further.
The company offers 200 mm GaN-on-Si micro LED wafer technology with wavelength uniformity of < 1 nm for licensing. ALLOS said that its 2E8 TDD crystal quality enables LED performance as good as on-sapphire and that large diameter GaN-on-Si allows much lower cost by using cheap processing capacity, easier substrate removal and higher usable wafer area for any given mass-transfer stamp size. LEDinside asked ALLOS' CEO whether 300 mm will be possible in the future and here's his reply: "Sure, we are very confident to be the first to show production-ready 300 mm GaN-on-Si LED wafers. The cost benefits will be enormous."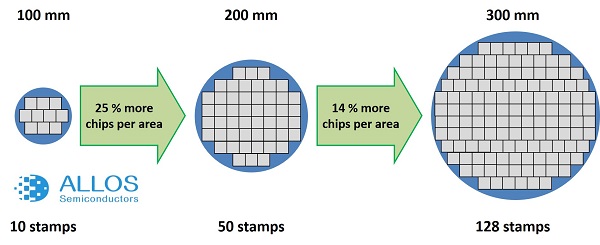 (Image: ALLOS Semiconductors)
JBD (HK)
Young startup JBD announced the wafer scale monolithic hybrid integration technology at the end of 2017. According to the HK-based company, the technology is able to sidestep bottlenecks those utilizing the flip-chip technology encounter. JBD bonds a Micro LED epi-wafer to an IC wafer and then removes the Micro LED growth substrate, making the process a blank epi-layer transfer to integrate Micro LED epi-layers with a corresponding silicon IC wafer.
At the beginning of 2018, JBD demonstrated active matrix Micro LED microdisplays in red, green, and blue. They are sized 12.8mm in length, 9.6mm in width and are composed of Micro LEDs with a device size of 2-3µm. In early 2019 the company will introduce a few more Micro LED displays with finer specifications. Their pitch size will be refined to be 2.5µm and the size of each pixel will only be 1.5-1.7µm, whereas the resolution will go up to 10,000ppi.
VueReal (CA)
VueReal announced this March the initial closing of its $10.5 million (USD) Series A funding. Last year, the startup revealed during an interview with LEDinside its three key patented technologies—the Continuous Pixelation technology, the Solid Printing technology, and VueReal's own driving scheme—that can dramatically reduce the cost and save the time to produce Micro LED displays. The company also announced it is collaborating with other technology companies including MOCVD equipment provider Veeco Instruments.
Plessey Semiconductors (UK)
At the beginning of 2018 Plessey Semiconductors announced it will be the first to launch a monolithic Micro LED based display based on GaN-on-Silicon. LEDinside got in touch with Plessey and learnt it has developed a monolithic technology that removes the need for pick-and-place. Instead, it builds RGB MicroLED arrays on a 150mm GaN-on-Silicon wafer which are then bonded to the controller backplane.
Plessey shared with LEDinside that it will release Quanta-Brite, a RGB MicroLED light engine for TI DLP (DMD) in May/June 2018 that triples light output whilst reducing form factor by 40%. In July 2018 Plessey will release a monochromatic MicroLED display Quanta-Ray, featuring a pixel pitch of 8µm. This will be promptly followed by a 0.7-inch full color Quanta-Ray with a pixel pitch of 16um (960x540) before the end of 2018, followed by a 1.0-inch color version of 11.6µm (1920x1080) in the first half of 2019.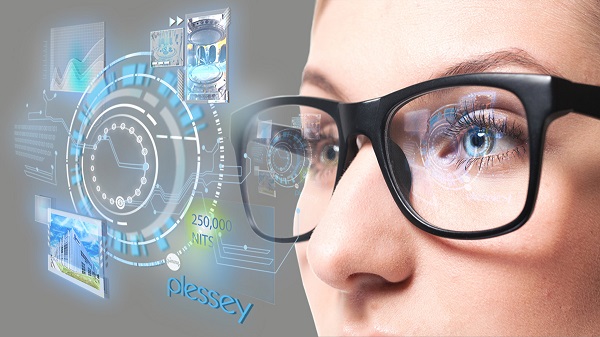 (Image: Plessy Semiconductors)
Optovate (UK)
Founded in 2008, UK-based Optovate has a long history of developing Micro/Mini LED related technologies. In March, the company announced it has made two breakthroughs in its approach to Micro LEDs. First, it developed a Micro LED transfer technology using UV laser and adjustable patterned masks to lift off Micro LED chips from their substrate and make them drop on a receiver substrate. Second, it also developed a layer of optical arrays combining refraction and reflection of light from each Micro LED chip. It enables controllable illumination, higher efficiencies and ultra-thinness for applications such as backlights for LCD and OLED displays and direct Micro LED displays.
Seren Photonics (UK)
Spun off from the University of Sheffield, Seren in February 2018 completed the first tranche of a £1m investment round. The company said the funds will be used to continue the manufacturing scale-up of its template technology along with the further development of green LED epitaxy structures. Seren aims to improve the efficiency of green Micro LEDs. Seren developed the semipolar & nonpolar template technology can make InGaN/GaN based LEDs more wavelength stable over a wide range of operating conditions, enable an order of magnitude higher switching speeds and also deliver the potential for improved efficiency through superior electron-hole recombination rates.
Related Products