Product Categories
Contact Information
Wuxi Kinglux Glass Lens Co.Ltd
ADD:No.286,Changjiang North Rd,New Dist,Wuxi,JS prov,China
Tel: 86-510-66759801
Fax: 86-510-84602998
Mobile phone: 86-18168862789
E-mail: ledglasslens@163.com
Contact person: Huimin Zhang
ICDT 2018: Optical Development Of AR/VR & Micro LED Bonding Methods And Drivers
Apr 14, 2018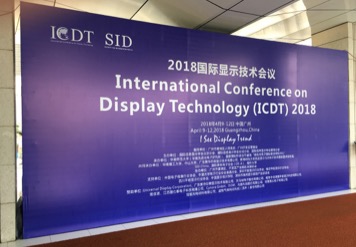 (Image: LEDinside)
The investment in whole flat panel display industry by Chinese enterprises has amounted to more than $70 billion, and the production scale of display panel in China is expected to be the No.1 around the world by 2019 from the third place at present, as well as China will be the important driving engine for the growth of global display industry. Under this circumstance, the Society for Information Display (SID) sets up operations entity in China, outside of the United States for the first time, and organizes the international conference on Display Technology (ICDT). The second International Conference on Display Technology (ICDT) is held during April 9-12, 2018 in Guangzhou, China. ICDT 2018 is hosted jointly by the Society for Information Display (SID) Beijing Chapter, SID Taipei Chapter and SID Hong Kong Chapter, and organized by South China Normal University, South China University of Technology, Sun Yat-sen University, Guangdong Juhua Printed Display Technology Co. Ltd, HKUST State Key Laboratory on Advanced Displays and Optoelectronics Technologies, SID China, OE-A and Fuzhou University.
ICDT 2018 attracts a large number of display prominent scientists, academia and enterprise elites in the field of display, focusing on 7 special topics and 17 symposium topics, also totally publishing 383 symposium papers (including oral, invited and poster presentations). In addition to the publication of technical papers, in order to promote the continuation of technology, the venue also provides exhibition booths and the opportunities for collaboration between start-ups and investors to enhance industrial exchanges.
Yi-Pai Huang, professor of optoelectronics engineering and associate research director at Taiwan National Chiao Tung University, expresses that the future development of AR/VR will extend towards reality, such as the application of AR in medical surgical real-time profile analysis, which can clearly confirm the surgical site, and the application of VR can be extended to virtual mall for dress collocation by self, the combination with real-life purposes will be the major development direction in future. In terms of overall application, AR will be part of our daily life as it combines reality and telephony functions to bring convenience to life, therefore, Yi-Pai Huang pointed out that AR will take up higher market penetration than VR in future. In addition, AR and VR are close-range display, so the design of light field is particularly important.
Unqualified design will cause unfocused display. Pinhole Aperture Arrays on the display can automatically adjust focal length and depth of field through the very small holes as the observation position changes, so that the position where the eyes fixed straight can be seen clearly and the heavy optical glass lenses can be replaced, which can be used as a thinning design, but still in the experimental stage, both FOV and resolution are low, FOV is only 29゚ x 16 ゚and resolution is 146 x 78 Pixels. In addition, the projection solution adopts multiple projection system, so that the projection area is subtler to increase the display difference between the main body and the background.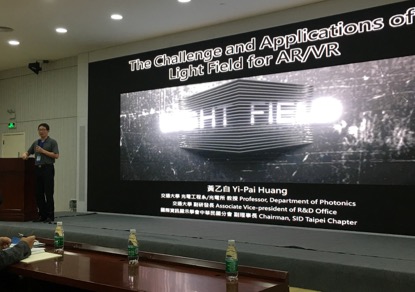 (Image: LEDinside)
Ioannis (John) Kymissis, associate professor of Columbia University and VP of SID East Americas, has confidence in Micro-LED not only because it has high brightness, wide color gamut and high reliability but also because it has wide application. In addition to display-related watches, mobile phones, televisions, etc., Ioannis Kymissis is also optimistic about its applications in lighting, projection and other industries. Micro LED Bonding can be sorted into Wafer Bonding, Chip Bonding and Nanowire. Small-size displays for non-flexible applications will be manufactured with Wafer bonding, and its application for monochromatic purpose is more mature at present. The production of medium and large size full-color displays with flexible backplane requirement is easier to achieve with Chip Bonding. The Nano wire can directly contact with the substrate over a large area, reducing the problem of excessively high impedance of the small P/N junction, but which still has the problem of insufficient brightness due to too low withstand current.
Ioannis (John) Professor pointed out that micro LEDs to be activated in a row or a column only needs passive matrix driver, while micro LEDs to be activated in a row and a column with bilateral scanning requirements needs active matrix driver. Because the passive matrix driver is relatively simple, it is more applicable to the Micro LED display with a small display area, low resolution and low brightness, while the active matrix driver is suitable for products with large display area, high brightness and high gray level.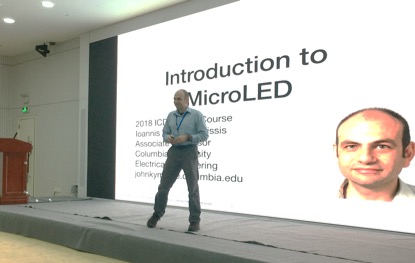 (Image: LEDinside)
Article written by Max / LEDinside
Related Products