Product Categories
Contact Information
Wuxi Kinglux Glass Lens Co.Ltd
ADD:No.286,Changjiang North Rd,New Dist,Wuxi,JS prov,China
Tel: 86-510-66759801
Fax: 86-510-84602998
Mobile phone: 86-18168862789
E-mail: ledglasslens@163.com
Contact person: Huimin Zhang
Advanced Catadioptrics From Optovate Opens Up New Micro LED Display Opportunities
May 23, 2018
Micro LED since 2014 has been receiving attention. The industry is slowly becoming familiar with the new display technology that motivated Apple to acquire LuxVue. However, in 2008 a company already foresaw Micro LED to be a future display trend and started related development despite lack of market appetite. When the market started noticing Mini/Micro LED UK-based optic tech firm Optovate had already patented ideas to render various applications featuring these microscopic technologies.
The British company has lately announced two major innovative approaches—one is a transfer technology and the other efficiency-improving optics—to produce Mini/Micro LED applications. LEDinside had an interview with Paul May, Commercial Director of Optovate and got first-hand information about the company's technologies and strategies.
Micro LED Extraction: p-LLO Micro LED Transfer Technology
When the size of LED chips is pushed down to only a few micrometers, it's difficult to transfer Micro LED chips away from wafer substrates to receiver ones using physical approaches. With that notion in mind, Optovate devised the patterned laser lift-off (p-LLO) transfer technology to separate Micro LED chips and lay them on receiver substrates.

Optovate patterned laser lift off (p-LLO) process (Image: Optovate)
The p-LLO transfer process focuses an excimer UV laser (194nm) light source onto a sapphire Micro LED wafer with the growth interface facing down to a receiver substrate, according to May's explanation. An adjustable patterned mask is placed between the UV light source and the sapphire substrate. The UV laser illumination triggers die sized regions of gallium nitride (GaN) not covered by the mask to create gallium metal and nitrogen gas, enabling the ablation of Micro LED chips onto the receiver substrate.
The wafer, before being processed, is first scanned for fault identification and location. The pattern of the adjustable mask wafer is then generated based on the pre-transfer data showing locations of those defects. "The selective optical addressing capability of the process ensures all the chips transferred are without quality issues and that enables the yield of seeding and backfilling Micro LED backplanes to be optimized," said May. The selective nature of the process thus also enhances the color uniformity of Micro LED arrays.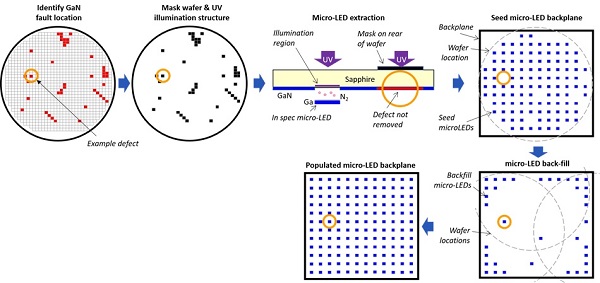 Some elements of Optovate's IP for micro-LED fault and array uniformity optimisation (Image: Optovate)
The company has demonstrated the p-LLO technology to transfer blue Micro LED chips from a sapphire wafer substrate. Considering a number of upstream manufacturers grow light-emitting layers on silicon substrates which aren't transparent, Optovate also has IP to modify the process with equivalent performance for silicon-based Micro LEDs, has although this has not yet been demonstrated.
Various display innovations made possible with Optovate's catadioptrics
When dealing with microscopic light-emitting devices, control of light output matters. Optovate introduces its patented catadioptric lens arrays which when placed upon light sources concentrate and control the light output via wide and narrow angle modes, enabling reduction in thickness of Mini LED backlight, high dynamic range imaging (HDR), stray light minimization, and high brightness maintenance while tuning light output angles.
Combining capabilities of both refraction and reflection, the transparent moldable plastic-based lens arrays are able to slim a Mini LED backlight module down to only 250µm meanwhile refining the display's light uniformity and efficiency as well as controlling production costs. "We use our micro-catadioptric technology to integrate several optical functions into a thin and low cost component that is aligned to the mini-LED array so we currently believe that our backlight technology will have similar or lower cost than other mini-LED backlight solutions," May explained.
Asked about whether the size of the catadioptrics can be further pushed down to integrate with smaller Micro LEDs, May replied, "We'd expect the micro-optic pitch to be the same as the target pixel pitch. For example, a 50 micron pixel pitch (and micro-optic pitch) may use a micro-LED of width around 10 microns, but the detailed design will be dependent on the specifics of the optical requirement."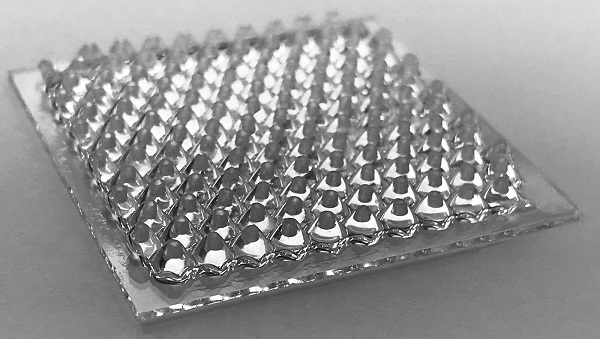 Inverted catadioptric array (Image: Optovate)
"One of the key challenges we needed to overcome was how to tool these micro-optic array structures, which are difficult for conventional tooling methods. We believe we have a tooling process that can be scaled down to these sizes, and that is something we are looking forward to demonstrating in the next phase of business," the Commercial Director revealed.
LEDinside finds the beam control of the catadioptrics has an edge over incumbent optical films, for example an anti-glare (AG) film, used to even the light distribution from Mini/Micro LEDs. Even if we do not know by how much the lens arrays reduce light loss, as its material remains confidential, its flexibility in controlling beam angles of each pixel, unlike the 180º that optical films can achieve, certainly adds more features, such as HDR, to display applications.
Micro LED displays, Mini LED backlights, Brighter OLED, privacy displays, you name it
Optovate's Micro LED optics can be applied to a myriad of display applications, said May. When used in Mini LED backlights, it refines the imaging capabilities and enhances the compactness of those backlights by removing the optical distance conventionally required. That enables much thinner HDR-LCD displays that can compete with OLED.
Interestingly enough, the optics can also be used to improve the brightness of OLED displays by up to three times. Instead of being placed at the bottom, the arrays are layered on the top of OLED displays. The solid catadioptric structures made with different materials remove the intermediate air gap and avoid oxygen and water ingress.
Apart from brightness enhancement for LCD, OLED, and Micro LED displays, the optics also adds privacy operation and/or switchable directionality to displays of smartphones, AR devices, and automotive head-up projection.
Related Products