Product Categories
Contact Information
Wuxi Kinglux Glass Lens Co.Ltd
ADD:No.286,Changjiang North Rd,New Dist,Wuxi,JS prov,China
Tel: 86-510-66759801
Fax: 86-510-84602998
Mobile phone: 86-18168862789
E-mail: ledglasslens@163.com
Contact person: Huimin Zhang
LG Innotek Introduces UV LED Module with Perfect Waterproof
Mar 14, 2018
LG Innotek today announced that it has supplied UV LED module for water purifiers to the famous Japanese purifier manufacturer for the past year and achieved the perfect quality of zero defect rate.
The Japanese market is known to have very strict quality standards, but it has proved its great performance and quality by supplying about 50,000 modules without a single defect.
UV LED is the advanced semiconductor light source that emits ultraviolet light with a short wavelength of 200 to 400 nanometers (nm). It eliminates germs and viruses and chemically reacts with special substances to be used for the surface, water, and air disinfection, healthcare, medical care, biotechnology, and curing and exposure equipment.
The LG Innotek's UV LED module with waterproof feature emits ultraviolet rays to directlyremove 99.9% of various germs and viruses while immersed in the water of the water tank of a water purifier. It is a waterproof product specialized in water purifiers with a water tank and installed in the inner bottom or sides of the water tank.
Especially, this product boasts the complete waterproof performance of IPX8 level that is the highest level among international waterproof standards. It is safe to operate for a long time at a water depth of 1 meters.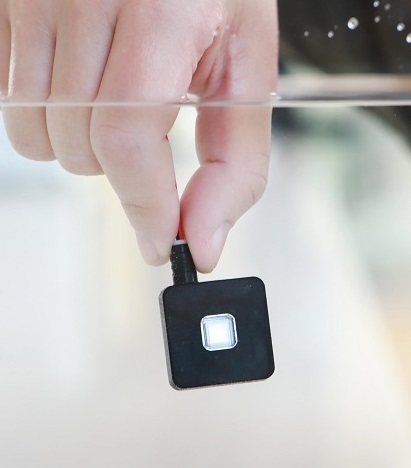 (Image: LG Innotek)
LG Innotek's UV LED is also harmless to human body since it uses only ultraviolet rays for sterilization without any chemicals or heavy metals. Unlike conventional mercury UV lamps, it is safe from breaking.
The product is convenient to use as it allows you to control sterilizing ultraviolet rays quickly and precisely. The mercury UV lamp requires about two minutes of preheating, while LG Innotek's UV LED module does not require preheating by using an advanced semiconductor light source.
LG Innotek proved its proprietary UV LED technology by developing 100mW UV-C LED in November last year, two years earlier than expected by the industry. This product is a powerful UV LED that sterilizes the surface of objects and even flowing water and air.
Furthermore, LG Innotek has produced 'UV LED module for sterilization of water purifier faucets in last April. This product is equipped in the water purifier, 'PuriCare Slim Up-down' that is a direct-water type water purifier from LG Electronics and is getting a good response.
The company official said, "LG Innotek's UV LED module gained approval in the home of LED for their sterilization performance and quality, speeding up the plan to reach the global market."
Keywords:LED UV LED LG Innotek products
Related Products